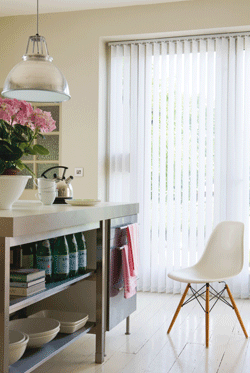 Vertical/louvre Blinds are an ideal window solution for the home as they allow full control over the amount of light you wish to enter the room.
Vertical blinds are window coverings made with slats of wood, vinyl (PVC), aluminium or fabrics that hang vertically from a head rail. These are often known as vanes, slats, material, louvres and hangers. The slats can be adjusted to control light and privacy by rotating from an open position to a closed position or can be drawn back similar to curtains. Vertical blinds are a great choice for families with children and pets because they are durable and easy-to-clean.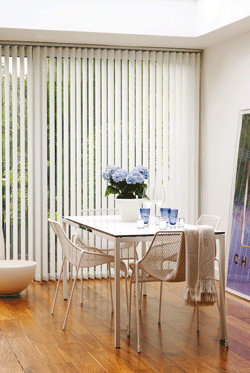 Vertical blinds also insulate and darken rooms and the fabric ones are usually treated to ensure they are fire resistant. They can be either manually or electronically opened and shut. All of our blinds are made to measure by our onsite blind makers so that we can keep you up to date with the process of your order.