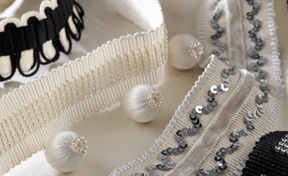 At Maypole Interiors, we believe that how you accessorise your soft furnishings is as important as anything else.
At Maypole Interiors, we have a wide selection of both wood and metal curtain poles. From traditional bespoke designs, to contemporary. Stainless steel, copper, bronze, black, and paint effects etc, the choice of colours and decorative ends in both wooden and metal poles is endless.
After you have picked your fabric, why not add trimmings for your curtains, from ranges by Zoffany, Hallis Hudson, Troynorth and GP J Baker and many more.
Tiebacks and holdbacks are a beautiful way of accessorising your curtains. Tiebacks on curtains can provide a range of different services. They can increase light when the curtains are open, make the curtains hang neatly and keep the curtains away from activity in the room.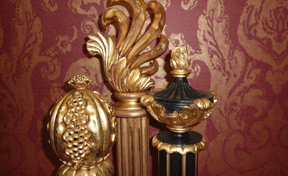 More often now people are going for a more contemporary tieback, from tassel tiebacks to beaded tieback, there is a vast array to choose from at Maypole Interiors. Holdbacks can be as ornate or as simple as are needed; they come in both metal and wooden, and can be coordinated with your poles or any other fixture you are looking to match it with.
From curtain poles to trimmings to tiebacks, at Maypole Interiors, all the areas to complete your project are covered.
Call into our showroom to have a browse at some of our accessories, or alternatively, have a look at our gallery.
"They really provide a hassle free service and do all the measuring up and provide helpful fabric suggestions. In particular, the roman blinds in our bedroom in the Zoffany fabric are really special and we get lots of compliments on those. Thanks again."

- Mrs Lynch, Belfast