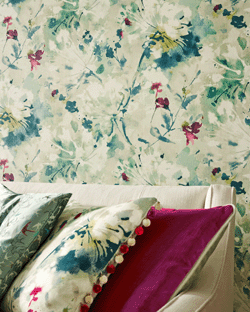 Whether you have definite ideas of what you want or would like advice to find something special for your house or apartment, Maypole Interiors have a wide range of quality wallpaper to look at while visiting our showroom. With collections from Zoffany, Designers Guild, Osborne and Little, Romo, Harlequin, and a vast selection of other brands, you can be sure there is something for your walls at Maypole Interiors.
Whether it is textured wallpaper, bold, striped, simple plains or extravagant flock paper. Maypole Interiors an extensive library of to cover every genre.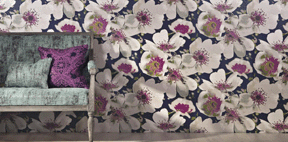 Whether it is digitally printing your family photographs directly onto your wallpaper, or creating wallpaper specifically designed for you, when it comes to your wallpaper, Maypole Interiors will go the extra mile to get you what you want for your home.
We also carry an array of bespoke wall coverings. Featuring specialized textures from Tektura that will add opulence to your home. Feature panels will add elegance and grandeur to any room. Call into our showroom today and discover the wallpaper you've been looking for.
Also available at Maypole Interiors
Smart wallpapers, amazing designs and durability for hotel and commercial.
Crystal inlayed wall coverings
Silk and fabric wall coverings
Hand blocked wallpapers- tradition at its best
"We thought that Maypole Interiors did a very excellent job for us -we moved into a new home and needed lots of blinds and curtains. We had a full range of products from them - curtains, blinds, roman blinds, pelmets etc.

- Mr & Mrs O' Rourke, Armagh